| | |
| --- | --- |
| Filter news entries by year: | |
News
---
September 2016
New Carey Blyton CD
We are excited to announce that we have just taken delivery of a new CD of world première recordings of music by Carey Blyton. Produced on the Sleeveless Records label as a collaboration between the Carey Blyton Trust and Fand Music Press, this new CD is a really top quality production from all points of view.
Performers on the CD are the Chameleon Arts Wind Quintet; Harriet Adie, harp; Derek Foster, vibraphone; and Ian Partridge, narrator.
Music on the CD is as follows (all world première recordings):
The physical CD is a deluxe production with an attractive 'picture disc' label, full colour inlays throughout and a 16-page full-colour booklet that includes extensive music notes (including the composer's own commentary on several pieces), the text of the poems that inspired some of the music, and ample illustrations of the Hiroshige watercolours portrayed by some of the musical settings.
The CD is available from this site and costs £10·99 + P&P.
---
September 2015
Inventions on a Theme of Carey Blyton
New composition by Gary Higginson
A new piano piece has been written by Gary Higginson, and published by Fand Music Press, entitled Inventions on a Theme of Carey Blyton.
Gary Higginson was a pupil of Carey Blyton at the Guildhall School of Music and Drama in the 1970s, and the two kept in touch right up until Carey's death. Indeed, in his own capacity as a teacher, Gary Higginson put on performances of several of Carey's works, including the Victorian Melodramas for schools, and was responsible for the very first performance of Frankenstein!.
Gary has now composed a set of Inventions on a Theme of Carey Blyton, based on the melody from Robin Redbreast. The piece is aimed at competent pianists of around Grade 6 to 7 standard, and lasts for about 6 minutes.
The sheet music is available in an attractive A4 booklet, complete with a high-quality colour cover, and is available for purchase right now from the Shop on this site or directly from Fand Music Press.
---
21st December 2013
Doctor Who
50th Anniversary Collection
4-CD pack
Fans of Doctor Who will be pleased to learn that Doctor Who: The 50th Anniversary Collection has just been launched.
Officially released on 9th December, The 50th Anniversary Collection is the most comprehensive collection of Doctor Who soundtracks assembled to date, and contains material spanning all incarnations of the Doctor across all five decades of the series' existence (1963–2013).
The collection is a lavishly produced four-disc set with a comprehensive full-colour booklet. All four discs are packed to bursting-point with material (the shortest playing time in the set is 78:55; the longest 79:28). An interesting essay about the history of Doctor Who's music, written by Mark Ayres, occupies the first two pages of the 20-page booklet, and is followed by a long and detailed track listing with full composition, performance and publication credits. Mark Ayres, himself a Doctor Who composer (The Greatest Show in the Galaxy, Ghost Light, The Curse of Fenric), is responsible for the research, compilation and mastering of the set.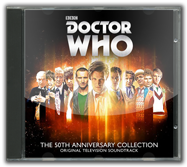 The relevance to Carey Blyton is that the set contains music from two of Carey's three Classic Doctor Who series: just under four minutes' music from Death to the Daleks (performed by the London Saxophone Quartet) and five-and-a-half minutes of music from Revenge of the Cybermen. The recordings have been compiled from the original tapes into miniature suites, and are consequently not identical to the individual and complete tracks presented on the Carey Blyton: Film & Television Music (2/4); The Film Production Music CD.
The first (and perhaps most distinctive) of Carey's three Doctor Who scores, Doctor Who and the Silurians, is unfortunately not represented in the collection. However, a limited-edition eleven-CD box set of soundtracks, the so-called TARDIS edition, is due out in the new year and will be much more comprehensive. In this collectors' edition there will be longer versions of Carey's Daleks and Cybermen suites, together with the Silurians music.
The 50th Anniversary Collection is available now for approximately £12.50 from Silva Screen Records, Amazon and iTunes. (Oddly, other than on Amazon, the digital downloads are considerably more expensive than the physical CDs at around £16.)
More information about both the four-CD and the forthcoming eleven-CD box-sets can be found at Doctor Who Music (Silva Screen Records).
---
15th September 2013
Major Blyton site updates
Since this new Carey Blyton site was launched on 1st July, work on it has continued apace, and enough new additions have been made to warrant an announcement detailing them. So, if you haven't visited the site since it was first launched, here's an overview of what's new:
There are many other minor improvements and refinements throughout the site. There's still more to come, of course, but we hope you'll enjoy the improvements and new material.
---
September 2013
New Bananas Live UK Stage Tour
The Bananas in Pyjamas are engaged on a stage tour of UK theatres in a brand new show aimed at young children, called Banana-riffic. The live theatrical version of the Australian children's TV programme has been created by Premier Stage Productions Ltd, which, since its formation in 1997, has become one of the UK's leading producers of children's theatre. This is not the company's first outing with the Bananas in Pyjamas; it put on two previous productions featuring the characters It's Singing Time in 2004 and It's Show Time in 2005.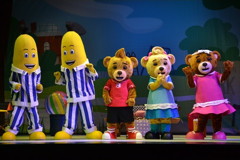 The new show takes the form of a whodunnit: the guest of honour at a Cuddlestown Park party is missing, and it's up to the Bananas in Pyjamas – and the audience – to get to the bottom of the emergency.
The show will be on stage for nearly ten months in total, with the final performance being held at the Lyceum, Crewe on 29th June 2014.
Full details of all tour dates and venues, with contact details for booking each show, may be found at the dedicated Bananas in Pyjamas LIVE Banana-riffic show site. Further information about the show, including a few photos, can be found at the Premier Stage Productions site.
---
1st July 2013
New Carey Blyton site launched!
Over the last several weeks a new Carey Blyton website has been in development, and it is finally ready to reveal to the world! The new site is a complete rewrite from scratch, and shares only its subject matter with the site that it replaces. However, virtually all of the previous site's contents are still present in a revised format, along with a great deal of new material, and the very few omissions will be rectified shortly.
We would like to express our thanks to Paul Foster, the outgoing webmaster, for his sterling work on the previous site. Although his site is being replaced by something entirely new, a great deal of the old site's content has been adapted in the creation of the new one, and his efforts over the years have been very much appreciated.
The site looks its best in WebKit-based browsers (Safari, Chrome etc.) and should be fine in Firefox, Opera and even Internet Explorer in most respects (though use of the latest version is strongly recommended for best results).
Major innovations of the new site include:
Catalogue:

There is now a full database cataloguing all of Carey's output. Although it's possible that this will still be extended as new items come to light or more information becomes available about individual entries, this catalogue can be considered

definitive

—to the extent that it's more accurate even than some of Carey's published scores. Although Carey was generally fastidious in his record-keeping, errors crept in nevertheless, and a few scores have been published with the wrong opus number because of mismatches in the written records. These records have been consolidated and the new online catalogue carefully checked and rationalised, so this site may now be considered the definitive source of information about Carey's work, whether published or not.

Exclusive media:

Excitingly, the new site is able to publish a range of previously unreleased material, as well as items that have been seen long ago but are no longer available commercially. In particular, we are delighted to be able to publish the recording of the first ever performance of the otherwise unrecorded Victorian Melodrama for Schools, Frankenstein! (along with its full libretto); a previously unseen children's programme presented by

Willie Rushton

that has never been broadcast, Arnold and the Acorns; a full copy of the award-winning film The Goshawk (available long ago on a commercial VHS cassette); and the full video of Carey's 70th Birthday Celebration, to name but a few. There are lots of other fun and interesting things to find, too, and there's plenty more that will be added to the site in due course.

Shop:

The site is now able to offer a wide range of Carey Blyton CDs, scores and books for sale. The shop is run in conjunction with Fand Music Press and currently offers the entire range of Carey Blyton music and books published by both Fand Music Press and Modus Music, and the CDs from the Upbeat and Apollo labels. For the items that we don't sell, the Catalogue section tries its best to help you find them by taking you to the appropriate publisher's page where possible.

New .com address:

Although we are retaining the existing www.careyblyton.co.uk address, the site is moving to www.careyblyton.com as its primary address, as this is a more appropriate and prestigious domain (as well as being slightly easier to type!). You can use either address to get here.
There's also plenty more to come. We were keen to launch the new site once all the basic material was in place, but many further improvements and extensions are planned for the near future, and there's plenty more material to add. So do keep checking back: the latest news item will always be shown on the opening Home page, but all previous announcements can be found in the News section, so you can easily see if you've missed anything.
As for the design, it is intentionally brightly colourful and jolly, and attempts both to reflect the sense of fun that permeates the large majority of Carey's work, and also to appeal to the young audience at whom much of his output was aimed. Nevertheless, the site's contents are serious and strive for accuracy. The design is heavily inspired by the publicity material that was created for Carey Blyton & Friends, the 80th anniversary concert, which was very well received and which seemed to lend itself to reuse in this way. (The same designer, Richard Hallas, is responsible for both that concert publicity and this website.)
All in all, there's a lot here to see, so please explore the site thoroughly and enjoy what you find…
Update: The Timeline and Family pages are back, with an exciting new look…
---
Please note that most of the news announcements from before 2013 have been adapted from the old site. Unfortunately, they were all undated, so they have been ordered and dated as appropriately as possible based on their content.
---
2nd December 2012
Bananas Crash Car in New Zealand
As reported by 3 News, the Bananas in Pyjamas crashed their car during the Christchurch Santa Parade on 2nd December 2012 in front of a crowd of thousands in Riccarton, New Zealand. Theirs was one of eighty floats in the parade, but in an inauspicious start, their driver shunted into the car in front and B1 and B2 took a tumble. No-one was hurt.
Follow the link and watch the funny video.
---
September 2012
Greek Bananas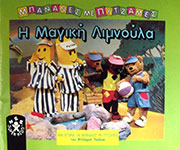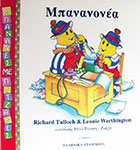 Bananas in Pyjamas is not just popular in Australia or, indeed, in the UK—it is pretty much a worldwide phenomenon, as demonstrated by these covers of children's books in Greek.
The one on the left is apparently entitled The Magic Pool and the one on the right is seemingly New Bananas.
Over 200 short Bananas in Pyjamas films have been made and over 300 licensed products are being sold all over the world.
---
7th July 2012
Beckenham's Famous
Beckenham historian Cliff Watkins has been involved with the Beckenham Junior Choir in two previous concerts celebrating 'Beckenham's Famous', firstly in 2002 and then again in 2008. Another such concert is now being planned for 2012.
Scheduled for 7th July, Fanfare for Penge will take place in Penge Congregational Church, Penge High Street, beginning at 7:30pm. Compositions by Carey included in the programme are Three a.m. (baritone songs), Sweet & Sour Rag (piano), Three Moods (violin and piano), Bananas in Pyjamas (Beckenham Junior Choir) and Frankenstein! (Carey's chilling operetta performed by Beckenham Youth Voices).
---
19th May 2012
Carey Blyton & Friends
80th Anniversary Concert
With Alison Smart (soprano) and her accompanist Katharine Durran (piano), at The Warehouse, 13 Theed Street, Waterloo, London, SE1 8ST at 7:00pm.
A programme of songs and piano solos, interspersed with readings from nonsense verse, celebrating the 80th Anniversary of Carey Blyton's birth (1932–2002).
Also includes premiere performances of works by Sir Arnold Bax, George Butterworth and Peter Thompson, and other works by Peter Warlock, E. J. Moeran, John Mitchell and Frank Bayford.
Admission (£12) is by souvenir programme, available from Fand Music Press; please book early as space is limited.
(Note: see the page devoted to Carey Blyton & Friends.)
---
4th February 2012
Frankenstein!
Frankenstein! will be performed by John Webber's Beckenham Youth Voices in a concert at 7:00pm at Holy Trinity, Lennard Road, London SE20 7LX.
---
2012
Carey Blyton Biography
Cliff Watkins, a Beckenham historian, has been instrumental in promoting interest in the town's famous son, and is currently engaged in a biography of Carey Blyton.
---
September 2011
New Recordings
You may already be aware of the recordings of the orchestral works The Hobbit (Royal Ballet Sinfonia, Sanctuary Classics CD WHL 2140) and The Golden Road to Samarkand (Royal Ballet Sinfonia, Dutton CDLX 7190).
Now due for imminent release (available in September 2011) is the recording of two further works for orchestra on the Dutton label: El Tango Ultimo and the five-movement suite Cinque Port (Royal Ballet Sinfonia, Dutton CDLX 7283).

Also on the recordings front we would draw your attention to a wonderful compilation disc of Blyton miniatures, Carey Blyton in Camera (Upbeat Classics URCD229).
Here is surely the perfect introduction to Carey Blyton, where a selection of his wide-ranging music, from Doctor Who arrangements, choral music, solo vocal and piano music through to the Britten Sinfonia's memorable recording of Lachrymae, is available to taste!
---
July 2011
The Christmas Spirit
Fand Music Press has announced the availability of Carey's The Christmas Spirit in two original versions: one for choir (SATB) and string orchestra, the other for two equal voices and piano.
The Christmas Spirit is a typically witty Blyton work with comical words set to memorable tunes interspersed with snatches of well-known existing melodies—ideal seasonal fare for both youth choirs and amateur ensembles.
Fand has also published a third version of The Christmas Spirit: this time a new arrangement for choir (SATB) and piano, edited by Richard Hallas. This new scoring may be used in its own right or as a rehearsal score whilst learning the version for choir and string orchestra.
---
April 2011
Bananas Sighted in the UK
Here in the UK we are pleased that Channel 5 television is now screening Bananas in Pyjamas episodes as part of its Milkshake programme each weekday morning. We are also informed that Bananas is being shown by Sky television on channel 619.
It is probably not coincidental that Bananas in Pyjamas rides are appearing outside Tesco supermarkets (one of the UK's largest chains).
Thanks to Cliff Watkins for this photo, taken at the Elmers End Tesco store in Beckenham.
---
August 2010
Carey Blyton Archive
We think it worth mentioning here that in August of 2010 Frank Bayford and John Mitchell (of Modus Music) and Peter Thompson (of Fand Music Press), all long-time friends of Carey's, visited his widow, Mary, at Woodbridge to assist her in sorting through the enormous collection of papers that belonged to Carey.
The collection is housed in a wooden outbuilding affectionately known as The Scout Hut, and is clearly going to take much effort to sort through.
However, all of Carey's original manuscripts have now been deposited by Mary at Trinity College of Music, Greenwich (where Carey studied in the 1950s), which has a large archive department for work by illustrious former students.
---
2010
Bananas in Sydney
(2000)
In the Closing Ceremony of the Olympic Games in Sydney, 1st October 2000, the Bananas in Pyjamas appeared on a banana-shaped float followed by vehicles carrying other Australian icons such as Paul Hogan (Crocodile Dundee) and Kylie Minogue. The design model for the float can now be seen in the Powerhouse Museum in Sydney. The Powerhouse Museum's site features a Banana Gymnast costume, worn by one of the schoolchildren who preceded and danced around the float in the parade.
---
8th March 2008
Sweeney Todd in Penge
The demon barber''s visit on March 8th 2008 to Penge Congregational Church (in the High Street opposite the old Beckenham & Penge Grammar School – which Carey Blyton attended, and where he discovered his passion for music) will provide plenty of food for thought, if not for consumption.
The event will not be the Sondheim musical nor a showing of the Johnny Depp horror movie, but a performance by the combined forces of the Beckenham Youth Choir and Youth Voices of the original Victorian melodrama written by local composer Carey Blyton.
Carey was a pupil at the Grammar School and knew this venue well, as it was used for school concerts. Also, his grandmother – Enid Blyton''s mother – lived round the corner in Clevedon Road. Deserted by her daughter, Theresa was always pleased to receive visits from her grandson.
Carey''s musical version of the Sweeney Todd story was completed in 1977, two years before Sondheim''s opened on Broadway in 1979. Sondheim's transferred to the Theatre Royal, Drury Lane in 1980 but it was a flop and closed four months later. When Carey''s version was published in 1981 it was very popular in schools, and an LP was launched in 1984.
Soon after the LP''s success, the music magazine Tempo, published by Cambridge University, invited Carey to explain why Sondheim''s Sweeney Todd had not been successful in the West End. In his article, Carey concluded that Sondheim''s version worked better as an opera – a view shared by the New York City Opera, where it was performed later in 1984.
Sondheim''s music is used in the Depp movie, but a review in The Guardian said that, although "forceful and fluent, there are no memorable tunes" in the film. If you want these, without the blood and gore, come along to the Penge Concert at 7pm on March 8th when the kids from Carey''s home town will enjoy entertaining you.
—Cliff Watkins
---